NEVER FORGET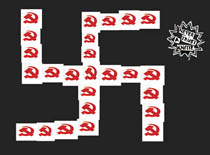 Never trust
a leninist
stalinist
trotskyist
maoist!
*Kronstandt(Kotlin Island),March 1921.The red army under the leadership of Trotsky crushed the legendary sailors insurection.
*Barcelona,May 5,1937.The Stalinists begin to attack the anarchist strongholds.
*Peking,June 4,1989.Chinese government crushed uprising at Tianamen square after fierce clashes between the peaple and the Peaples Libaration Army
*Athens,November 17,1998.Members of the Greek "Communist" Party handed over 160 anarchists over to the police.